Transitional Kindergarten Expansion Program
186th Street will have a new Transitional Kindergarten Expansion program for children who turn 5 between December 3, 2015 and June 2016. This six hour program begins August 18, 2015 and it will be our new Early Childhood Education program. Children will learn language, literacy, and math skills to prepare them for Kindergarten and beyond. Enroll your child today!
Attention All Parents: For the 2015-2016 school year, we must fill out lunch applications to re-certify as a Provision B School. You can fill the application out online. Please complete your application as soon as possible. Let's soar with nutrition! https://www.applyforlunch.com/Application
Apply For Lunch :: Online Applications For School Meals
Online School Lunch Applications
APPLYFORLUNCH.COM
Upcoming Events
Aug. 5, 12, 19, & 26 8:30 a.m. Madres activas
Aug. 12 9:00 a.m. or 1:00 p.m. Kinder EL Parent's Meeting
Aug. 17 Pupil-free Day
Aug. 17 2:00 p.m. Kindergarten Orientation
Aug. 17 3:30 p.m. Kinder EL Parent's Meeting
Aug. 18 First Day of School
Aug. 24-28 PTA Membership Drive
Aug. 25 5:15 p.m. 4/5 Grade Back-to-School Night
Aug. 27 3:00 p.m. Owl Peace Leadership Team Meeting
Aug. 31 6:00 p.m. Tea Time to Talk to the Principal
Advisory Councils' Orientation
Poem of the Month
August by Elizabeth Maua Taylor
August rushes by like desert rainfall,
A flood of frenzied upheaval,
Expected, but still catching me unprepared.
Like a match flame bursting on the scene,
Heat and haze of crimson sunsets.
Like a dream of moon and dark barely recalled,
A moment, shadows caught in a blink.
Like a quick kiss; One wishes for more
But it suddenly turns to leave, dragging summer away.
Song of the Month
This Land Is Your Land
This land is your land; This land is my land
From California to the New York island;
From the red wood forest to the Gulf Stream waters
This land was made for you and Me.
As I was walking that ribbon of highway,
I saw above me that endless skyway:
I saw below me that golden valley:
This land was made for you and me.
Book of the Month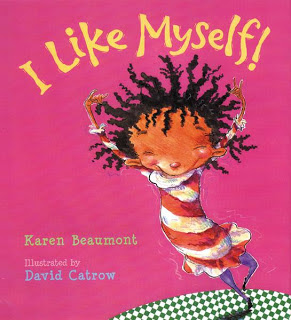 We will continue our tradition of all classrooms reading the same book each month to build our students' vocabulary and academic language. Our first book of the school year is I Like Myself! written by Karen Beaumont and illustrated by David Catrow. As we start the school year with new teachers, new classmates, and new friends, this fun-filled book has happy rhymes and colorful illustrations to encourage our students to celebrate self-acceptance. Our children will enjoy seeing how the main character is different and special, and that's what makes her so wonderful! The pictures and words will make our students smile and feel good about themselves.