The school office is open for registration. Enroll your children Monday through Friday from 9:00 a.m. to 2:00 p.m.
Parent Involvement Opportunities…
Aug. 2, 9, 16, 23, & 30 8:30 a.m.  Madres activas
Aug. 11   9:00 a.m. or 1:00 p.m. Kinder EL Parent's Meeting
Aug. 14     Pupil-free Day
Aug. 14    2:00 p.m.  Kinder EL Parent's Meeting
Aug. 15    First Day of School
Aug. 21-25   PTA Membership Drive
Aug. 22   Professional Development begins – 1:30 p.m. dismissal
Aug. 24     3:00 p.m.   Owl Peace Leadership Team Meeting
Aug. 25     8:30 a.m.  EL Informational Meeting
Aug. 28     5:00 p.m. – 6:00 p.m.   PTA Meeting
Aug. 28      6:00 p.m.   Tea Time to Talk to the Principal
Advisory Councils' Orientation
Aug. 29      5:15 p.m.   4/5 Grade Back-to-School Night
Book of the Month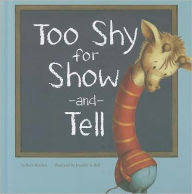 We will continue our tradition of all classrooms reading the same book each month to build our students' vocabulary and academic language.  Our first book of the school year is Too Shy for Show-and-Tell written by Beth Bracken and illustrated by Jennifer A. Bell.  This story is about a little boy named Sam who is a quiet little boy and he hates show-and-tell.  When Sam thinks about show-and-tell, it makes his stomach hurt.  He even tries to miss school, but his mom knows he is not sick.  Sam's adventures help him find a way to conquer his fear.  This book will help our little owls who are nervous about coming to school.  We will encourage them to come to school every day ready to soar.
Poem of the Month
August by Elizabeth Maua Taylor
August rushes by like desert rainfall,
A flood of frenzied upheaval,
Expected, but still catching me unprepared.
Like a match flame bursting on the scene,
Heat and haze of crimson sunsets.
Like a dream of moon and dark barely recalled,
A moment, shadows caught in a blink.
Like a quick kiss; One wishes for more
But it suddenly turns to leave, dragging summer away.
Song of the Month
This Land Is Your Land
This land is your land; This land is my land
From California to the New York island; 
From the red wood forest to the Gulf Stream waters 
This land was made for you and Me.
As I was walking that ribbon of highway, 
I saw above me that endless skyway: 
I saw below me that golden valley: 
This land was made for you and me.